Written by Lindsey McKay
When my family and I moved from Dallas to Sulphur Springs, Texas, I kept hearing about this place called Paris. Having been to Paris in France, I envisioned the Eiffel Tower, the Arc De Triomphe, and the Champs-Elysees. Little did I know that the second largest Paris in the world was just 38 miles north of my new home. Paris TX is a charming town located just south of the Red River in East Texas, about 110 miles northeast of the Dallas/Fort Worth Metroplex. The people are friendly and the city is unique in many ways starting with the Texanized Eiffel Tower.
There is plenty to do in the second largest Paris in the world. My husband and I, along with our six children enjoy going to the farmers market on weekends and look forward to the upcoming tower city comedy festival. When I first visited Paris before joining the chamber of commerce and doing business in Paris TX, I found the most remarkable character and interesting things to see and do while there. To my delight, the following things seemed special to me.
Paris's Texanized Eiffel Tower
I was astonished to find the World's Largest Eiffel Tower topped with a red cowboy hat, of course, and covered with colorful lights at night at Jefferson Road at Collegiate Drive in Paris, Texas.
The Culbertson Fountain in Downtown Paris
In Downtown Paris TX, explore wonderful antique shops, boutiques, art galleries, restaurants, and a theater with live performances amid unique WWI-era architecture dating back to 1916-1918, all surrounding the famous Culbertson Italian Marble Fountain. The fountain was a tribute to the rebuild after the great fire of 1916. A historical marker nearby tells the story of Mr. Culbertson's legacy and contribution to Paris. The fountain is beautiful and a constant reminder of the beautiful people to get to know in Paris TX.
Diverse Pioneers Settled in Paris TX to create it's rich history as a Texas town
John Chisum was a cattle baron, providing herds to Charles Goodnight and acquiring contracts to supply beef to New Mexico, Arizona, and Kansas. He commissioned herds to the local and territorial livestock associations for more than 30 years. He never married and died of cancer in Eureka Springs, Arkansas. Paris RX is his burial place, where his father moved the family in 1837.
Bass Reeves was born a slave in 1838 in Crawford County, Arkansas. Reeves, one of the first black Deputy U.S. Marshalls West of the Mississippi River, arrested over 3,000 felons and shot and killed 14 outlaws in self-defense.
Belle Star, a notorious frontier outlaw queen and horse thief, farmed near the town.
Retired outlaw Frank James, brother of Jesse, clerked in a local dry goods store.
The Sam Bell Maxey House State Historic Site
This High Victorian Italianate style home, showcases the original Sam Bell Maxey family furnishings, clothing, and historical letters. Maxey was a prominent Mexican War veteran, Confederate General, and U.S. Senator. His roommate at West Point was Stonewall Jackson, and classmate Ulysses S. Grant helped him obtain a presidential pardon after the Civil War so he could run for political office. This unique and beautiful house boasted the first flushable toilet in Paris TX.
The 1916 Great Fire And Town Rebuild
On March 21, 1916, a fire of enormoucs proportion broke out in Paris and destroyed everything in its path. With $300 million in damages estimated in today's dollars, the fire burned 264 acres, destroyed 1,400 buildings, and killed three people. Although a terrible and unforgettable disaster, the ruins of the fire brought out the town's people spirit. The Paris citizens rebuilt the town in 18 months. Paris TX has an extensive collection of post-Victorian architecture that's listed on the National Register of Historic Places.
The Scott Mansion
Visit the Scott Mansion, built between 1908 -1910, which survived the Great Fire of 1916. Originally home to Rufus F. Scott, Sr (1848-1932), today, the mansion is a funeral home with Art Nouveau and Dutch Renaissance styling.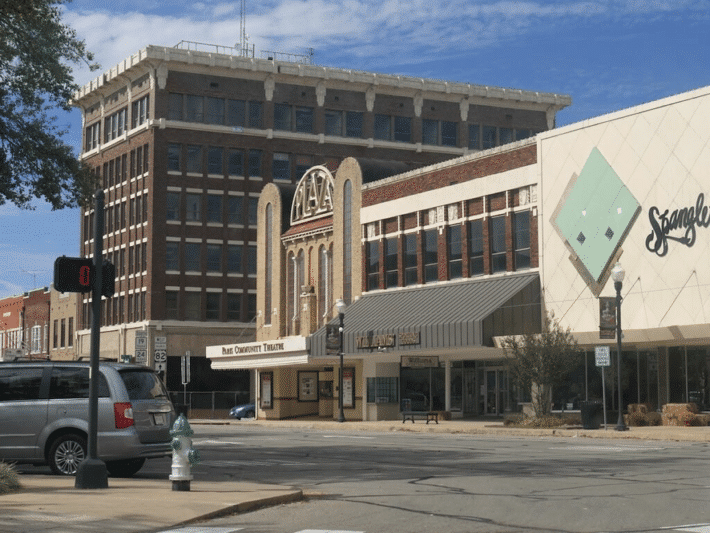 Walking Tour Of Historic Downtown Paris TX
I highly recommend taking the walking tour of downtown Paris TX. You'll enoy the Plaza Theatre, the Lamar County Courthouse, and the revival style white columns of the American Legion Building. There are four grand churches on Lamar Avenue and Church Street: the First United Methodist, First Baptist, Central Presbyterian, and Holy Cross Episcopal Church.
Lamar County Historical Society Museum
I enjoy history and the local Paris history at the Lamar County Historical Museum, south of Heritage Hall. The whole family explored the African American History Room, pioneer kitchen, blacksmith shop, Baird cabin, military room, and other historical items, including a Paris TX photo taken before the 1916 fire.
Historic Homes Tour
Paris TX Shopping Boutiques
Gypsy Chic is a fun fashion boutique. Girls Night Out Boutique, just off the square, is where style meets everything bling! Gifts From Above Boutique has clothes, shoes, jewelry, and home and gift items. Paris Baby has offered all things baby since 2008. Sassy Sisters PTX Boutique is where style has no size, and your wallet and self-esteem will love you. Find souvenirs from t-shirts to Eiffel towers and everything Paris at Paris Texas Gifts. Claudia At Liberty is a vintage home goods shop with very cool stuff. Spanglers, a Hallmark store, has everything from baby to 50th-anniversary gifts.
Trail De Paris
Keith and I have enjoyed the Trail De Paris which is a six-mile paved running/walking trail that runs from SE 8th Street east to the city limits, where it links to the Reno Rail Trail, giving you another five miles to explore. We saw lots of runners, walkers, bikers, stroller-pushers, and leashed dogs (and their walkers) enoying the sunshine and fresh air.
We learned that next time we will bring your bike clothes and helmets. WE learned that rental bikes are available at the Love Civic Center.
Northeast Texas Trail (NETT)
The North East Texas Trail is a bike trail that connects Farmersville through Paris TX to New Boston, totaling 133 miles. The area is a state park.
Downtown Art Murals
Explore the downtown area to see vintage and modern murals featuring Dr. Pepper, Coca-Cola, Texaco, the cotton industry, and other Paris businesses.
Main Street Winefest
The Main Street Winefest is a big attraction. The event features at least 10 different wineries from across Texas with wine tastings and the option to purchase wine by the glass or bottle. Various restaurants and food trucks from across northeast Texas offer food samples with menu items for sale. The proceeds help fund building improvements for revitalizing downtown.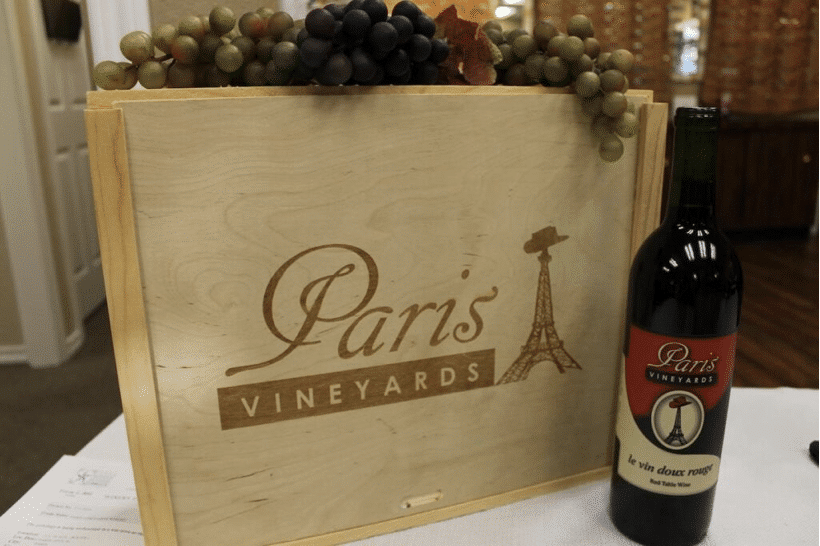 Paris TX Vineyards Winery
Paris Vineyards Winery is open for tastings and retail purchases. We enjoyed sampling the Blanc Du Bois, Chardonnay, andDe Vin Doux Rouge wines.
My family and I have really enjoyed getting to know Paris TX and the friends we are making are very enjoyable. Only a few minutes drive from our home north of Sulphur Springs, we feel at home in Paris TX because the people have welcomed us and graciously embraced my Law Practice. Thank you to the people of Paris TX.