Reported by Longview News-Journal on Apr 30, 2022
A second fatal wreck Saturday in Longview was blocking all northbound traffic on North Eastman Road and all traffic on East Hawkins Parkway as of about 7:30 p.m., according to Longview police.
Police said the fatality involved two vehicles, but no other details were available Saturday.
Police spokesman Brandon Thornton said Saturday afternoon that a two-vehicle fatal wrecks in the 1300 block of West Loop 281 involved a motorcycle but released no other details.
Longview Police Department Response
The Longview Police Department posted on Facebook about 2:30 p.m. Saturday that the wreck had closed eastbound traffic on West Loop 281, but the road had been cleared by about 3 p.m.
Longview drivers are not invincible when it comes to traffic accidents. Just like drivers in any other city in the county, state and nation, they too, can be involved in a traffic accident. Traffic accidents are no fun and they're quite disruptive to everyday life and to the bank account too.
Fatal Wreck Can Be Avoided
A lot of traffic accidents can be avoided if drivers would return to basic driver education rules, follow traffic signs and signal lights, observe what's happening around them, do not eat while behind the wheel, and leave their cell phones alone. Distractions, while we're driving, are one of the major causes of accidents.
We contacted the Longview Police Department to obtain the same information, we now know the Longview intersections that saw the most police, fire, ambulance and tow truck activity throughout 2021. Like we mentioned before, and will here again, here are some things that you can do as a driver to avoid or prevent traffic accidents:
Slow down – go the speed limit
Watch for cross traffic – whether at a stop light, stop sign or someone pulling out of a shopping center or residential driveway
Traffic lights and signals – although it's green, proceed through with caution
Avoid distractions – phone calls, texts, eating, putting on make-up, adjusting the radio
For the most part, the same factors come into play that could have contributed to many of these accidents in Longview last year:
High number of vehicles – just a lot of traffic on a particular road
Poor visibility – due to weather conditions or the design of an intersection due to terrain
Risky turning into traffic – we see this alot, drivers pulling out of a business driveway in front of others going speed limit and having to quickly stop
Reckless driving – speeding, changing lanes, merging, road raging
Being alert and always watching what is happening around you while on the road can help prevent you from being in an accident.
These 10 Longview Intersections Had the Most Accidents in 2021
Longview drivers are not invincible when it comes to traffic accidents, these Longview intersections saw the most accidents in 2021 according to a report from the Longview Police Department.
Spur 63 @ Hwy. 80/Marshall Ave.
This intersection had 28 reported accidents in 2021.
Loop 281 @ Gilmer Rd./TX State Hwy. 300
This intersection had 23 reported accidents in 2021.
Loop 281 @ McCann Rd./Spur 63
This intersection had 22 reported accidents in 2021.
Loop 281 @ Eastman Rd./US Hwy. 259
This intersection had 20 reported accidents in 2021.
Hwy. 80/Marshall Ave. @ US Hwy 259/Eastman Rd.
This intersection had 18 reported accidents in 2021.
Hawkins Pkwy. @ Eastman Rd./US Hwy. 259
This intersection had 15 reported accidents in 2021.
Estes Pkwy. @ Eastman Rd.
This intersection had 14 reported accidents in 2021.
Loop 281 @ FM 1845
This intersection had 14 reported accidents in 2021.
Marshall Ave./Hwy. 80 @ Fourth St.
This intersection had 14 reported accidents in 2021.
Eastman Rd./US Hwy. 259 @ FM 2208/Alpine Rd.
This intersection had 13 reported accidents in 2021.
Roads in and around Longview, TX are sometimes treacherous!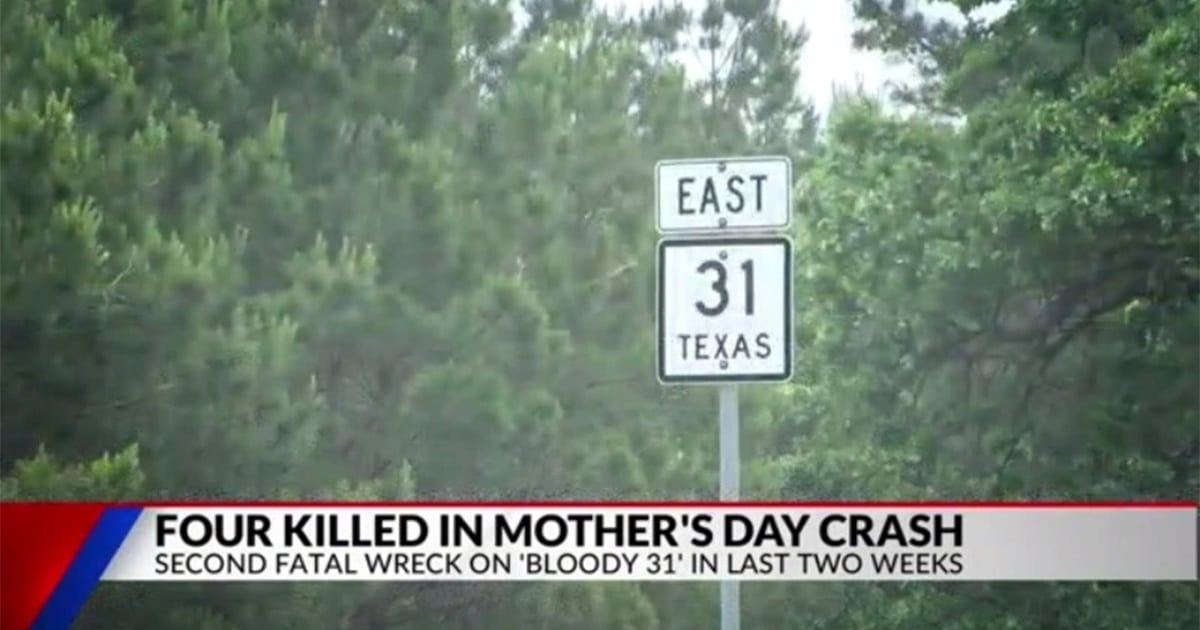 Known as "Bloody 31" One of the deadliest highways in Texas is located in East Texas in the woods just outside Longview, TX. In fact "The Legend of Bloody 31" continues to grow. The nickname given a dangerous stretch of Highway 31 runs from Kilgore to Tyler.
Alcohol is one of the main contributors to the accidents on "Bloody 31" outside Longview, TX. A straight stretch of road, this part of Highway 31 is popular for street racers and speed demons who push their vehicles to the limit. Its not curves that are deadly but the hills that often hide slow moving cars or turning cars from speeding vehicles. Many fatal accidents have occurred on Highway 31 in this stretch known as "Bloody 31." Year after year, "Bloody 31" is reported by TXDOT as one of the top fatality wreck roads in Texas. Last year, there were 8 fatal wrecks and TXDOT records show that the rate of traffic fatalities on this highway in the past 10 years is more than 6 times that of the entire lone star state!
What Are the Most Common Car Accident Fatalities?
An average of 90 people dies in car accidents on US roads every day. According to the National Highway Traffic Safety Administration (NHTSA), these tragedies totaled a staggering 32,675 crash-related deaths in 2014 alone.
Fatal wreck can occur with a single vehicle, or involve two or more vehicles. While many people die during a crash itself, many others perish later as a result of injuries they received during the crash. Even more, suffer long-term disabilities as a result of their accident.
Understanding why there are so many fatal wrecks can help you avoid being in one.
Leading Causes of Fatal Wrecks
The single biggest cause of fatal wrecks is distracted driving. This is especially true for drivers between 15 and 20 years old. Distractions come in many forms: looking at others in the car, playing with the radio, reaching for something on the floor, or answering a phone call or text message.
As distracted driving is now such a significant cause of accidents, many states have made it illegal to use a cell phone without a hands-free device or to engage in other distracting behavior while driving. Most states only allow hands-free cell devices for drivers over a specific age.
Another big contributor to the number of fatal accidents is excessive speed. The faster a vehicle is moving, the more likely it is there will be fatalities in a crash. Males, especially young men and teenagers, are more likely to be involved in a fatal car accident than their female counterparts. Alcohol or drug use while driving often contributes to this fact.
Other common factors contributing to auto crashes are:
Misuse of alcohol, narcotics, and prescription medications while driving
Driving while tired or upset
Not using seatbelts
Driving an unsafe vehicle
Driving at night and during hazardous road conditions
As you can see, most of these causes of auto fatalities are avoidable.
How to Prevent a Fatal Car Accident
According to research from the NHTSA, most traffic accidents happen on weekend nights, during weekday rush-hour traffic, and during holidays when many people drive long distances to visit family and friends. Being extra alert when driving at these times can help prevent an accident.
Other ways to reduce your chances of having an auto accident are:
Never drink and drive, and never use any prescription medication that may impair your ability to drive.
Turn off your cell-phone (or use a hands-free device if you are old enough to do so legally). Do not text and drive.
Always be sure everyone in the car is wearing a working seatbelt.
Obey all road signs and traffic signals, and never exceed the posted speed limit.
Adjust your driving style and speed to the road and weather conditions.
Avoid driving during heavy rain, snow, and other adverse weather conditions.
By following laws and regulations, practicing defensive driving, and using common sense, you can greatly lower your chances of being involved in a fatal car accident.
If you have been injured in a car accident in Longview, Highway 31 or any dangerous road in East Texas, contact McKay Law immediately to protect your rights and potential recovery. McKay Law obtains maximum recoveries for car accident victims all across east Texas and especially in Longview, TX. We are available 24/7 for case consultations and valuable advice on what to do if you are involved in a car accident and are injured. Call (903) 999-2653 or submit your case for a free case review.