Our attorneys may be able to secure compensation from a Camp Lejeune cancer lawsuit on your behalf. If you were exposed to contaminated Camp Lejeune drinking water, contact McKay Law today.
Camp Lejeune Cancer Lawsuit: Water Contamination Health Issues
From 1953 to 1987, almost a million veterans, their families, and civilian workers were potentially exposed to toxic chemicals in the drinking water at the Camp Lejeune military base.
Exposure to these chemicals may increase the risk of various cancers, birth defects, and other health-related problems.
Health issues arising from Camp Lejeune water poisoning may include:
Adult leukemia
Aplastic anemia
Birth defects
Bladder cancer
Breast cancer
Cardiac defects
Cervical cancer
Esophageal cancer
Kidney cancer
Liver cancer
Lung cancer
Lymphomas
Multiple myeloma
Non-Hodgkin's lymphoma
Pancreatic cancer
Parkinson's disease
Prostate cancer
Rectal cancer
Scleroderma
How Much Do Lawyers for Camp Lejeune Water Contamination Claims Cost?
At McKay Law, our Camp Lejeune water contamination lawyers work on a contingency basis, which means there aren't any upfront or out-of-pocket costs.
Our Camp Lejeune cancer lawsuit lawyers only get paid if you do, so there's no financial risk to filing a claim with our team.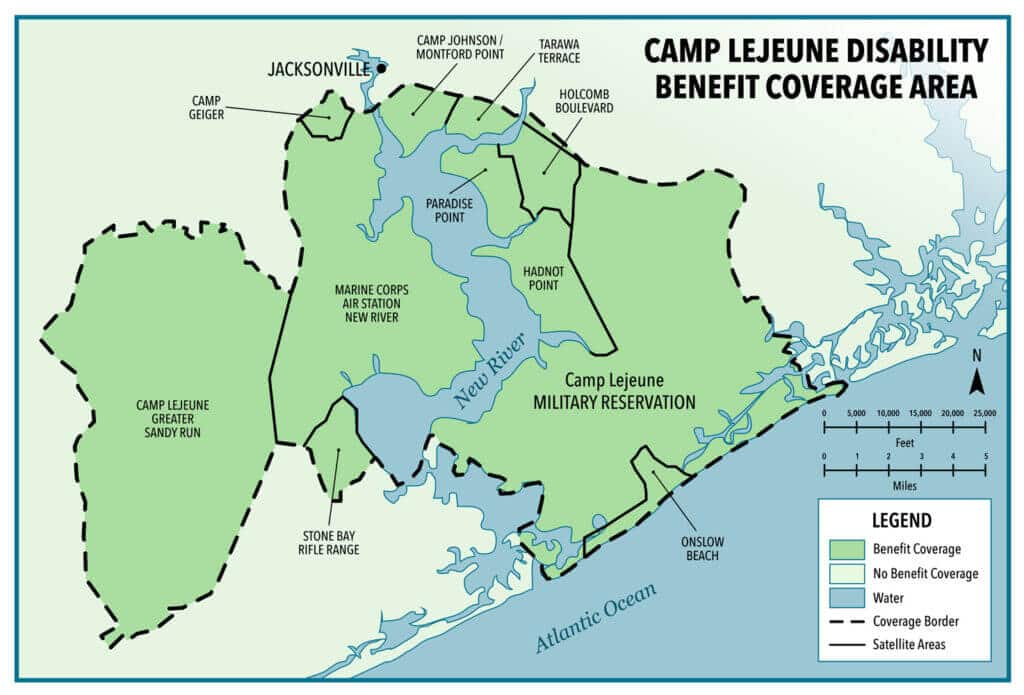 What Determines Camp Lejeune Cancer Lawsuit Settlement Amounts?
Potential water contamination at Camp Lejeune cancer lawsuit settlement amounts may be influenced by a variety of different factors in each case, like:
Any lost wages from being unable to work
The cost of past, current, and future medical expenses
How long you were exposed to the contaminated drinking water
The type of cancer or disease you have
With that being said, every case is different, and there's no guarantee of compensation with any legal claim.
What Are the Symptoms of Camp Lejeune Water Contamination?
Exposure to the contaminated water at Camp Lejeune can cause a range of serious health conditions, including multiple types of cancer, Parkinson's, and more.
Initial symptoms of these health concerns include neurobehavioral effects, or changes to your behavior and cognitive functioning.
Camp Lejeune water contamination symptoms may include:
Confusion
Cramping
Depression
Diarrhea
Dizziness
Fatigue
Headaches
Lack of coordination
Light sensitivity
Nausea
Numbness in limbs
Skin infections (like dermatitis or impetigo)
Trouble concentrating
Vomiting
If you were exposed to contaminated Camp Lejeune drinking water and are suffering from any of these symptoms, schedule a visit with your doctor.
What Was in the Water at Camp Lejeune?
Toxic chemicals called volatile organic compounds (VOCs) were detected in the drinking water supplied by certain water treatment plants at Camp Lejeune. Most of these compounds have been classified as carcinogenic (cancer causing) or probably carcinogenic.
The following chemicals and solvents were found in the water at Camp Lejeune:
Benzene
​​Perchloroethylene or tetrachloroethylene (PCE)
Trichloroethylene (TCE)
Vinyl chloride (VC)
The contaminated water was then provided to the barracks, family housing, and other buildings on base, which put nearly a million military service members, civilian workers, and their families at risk of potentially severe health issues.
Is Camp Lejeune Water Safe Now?
Most likely, yes. From the early 1950s to the 1980s, the drinking water at Camp Lejeune was potentially contaminated with dangerous chemicals that can cause various types of cancer and other severe health issues.
The U.S. Marine Corps discovered dangerous chemicals in the drinking water at Camp Lejeune in 1982, and the most heavily contaminated wells were shut down in 1985.
Get Help Filing a Camp Lejeune Cancer Lawsuit
If you or your loved one were potentially exposed to contaminated drinking water at Camp Lejeune, contact McKay Law today. You may be eligible for compensation that can help pay for medical treatment and more.
As an established national personal injury law firm, McKay Law has the resources and reach to fight for our injured clients and secure justice on their behalf.
Over the last 40+ years, we've recovered over $8.6 Billion for thousands of families across the country.
Don't suffer because someone else was careless. Call 903-INJURED or fill out our contact form today to take the first step toward justice.